Overview of Services
The Integrative Genomics Core is committed to providing high quality, efficient, comprehensive, and cost effective genomic services to City of Hope researchers using microarray and high-throughput sequencing technologies. We also provide basic and advanced Bioinformatics data analysis services to make complex data biologically interpretable for clinical and basic scientists.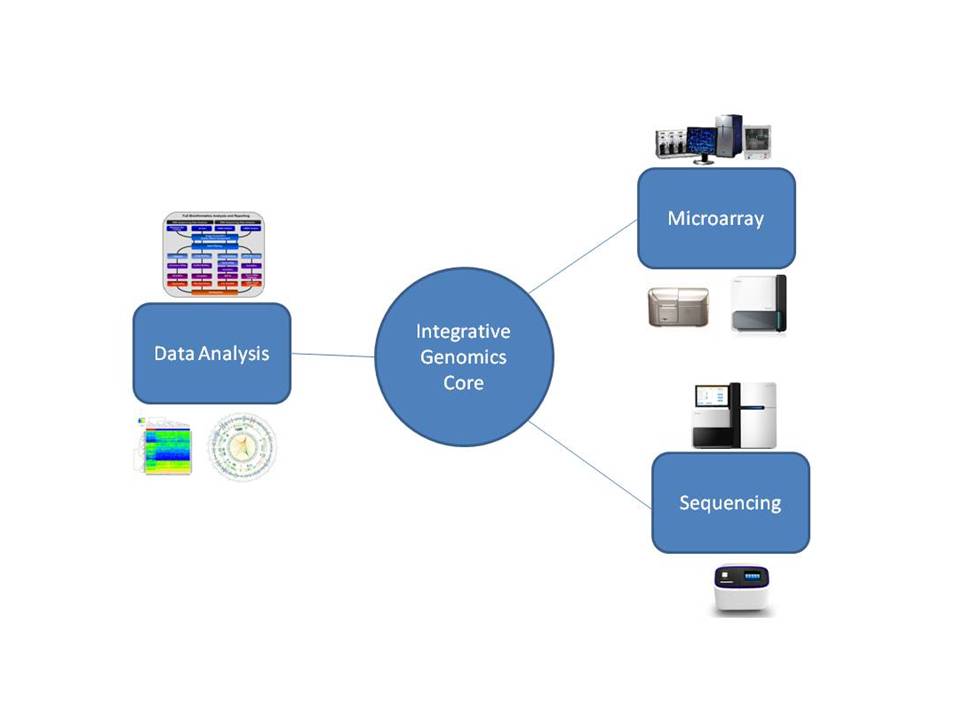 Announcements
1) . If you have any questions about our service or have any inquiries, you can send email to IGCore@coh.org.
2). Oct 1, 2018: We have new lowered service price for most library preperations. For example, 16s rRNA micribiome profiling is now at ~$60 per sample. Please check our prices in the request service page.
3). 10x Genomics Chromium instrument is now available to provide RNA-seq analysis at single cell level, with about $3 per cell. Please consult us for more details.
4). April, 2019: The PacBio Sequel is in production for long read sequencnig. Please consult us for more details.
Software Licenses
We provide institutional license for TRANSFAC and Ingenuity Pathway Analysis (IPA).
To gain access to TRANSFAC, please register account at https://portal.genexplain.com/cgi-bin/portal/useradditionpage.cgi. Please use license key 555-13100-42490212.
For IPA, please contact Xiwei Wu (xwu@coh.org) to obtain account.

Leadership
Xiwei Wu, M.D., Ph.D., Core Director
xwu@coh.org


Jinhui Wang, Ph.D., Core Manager
Location and Hours of Operation
Hours
Location

9:00am - 5:30pm

Beckman Research Institute of City of Hope

655 E. Huntington Dr.
Monrovia, CA 91016
Room 1091/1092
Links and Resources
https://www.cityofhope.org/research/shared-resources/integrative-genomics-and-bioinformatics/integrative-genomics
For any inquiry about our services, please email to IGCore@coh.org.